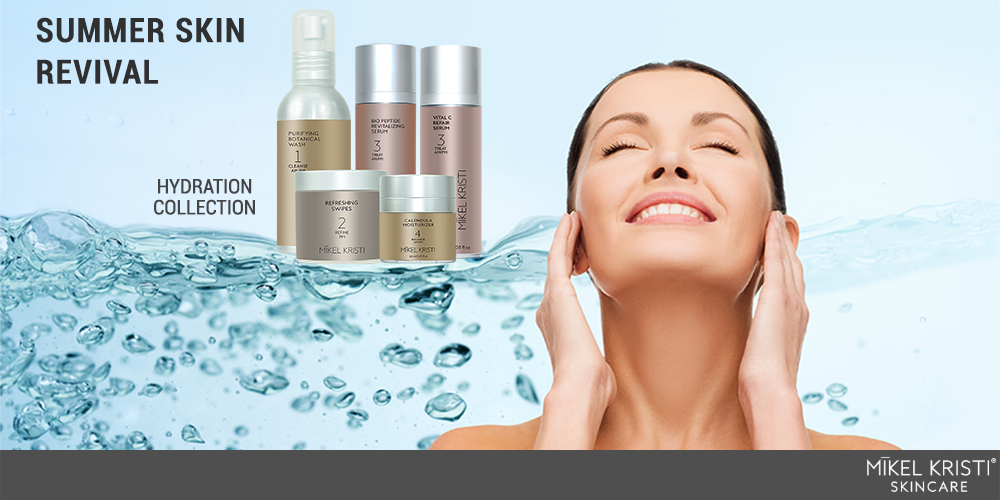 Summer Skin Looking Drab?
Well hopefully somehow in the midst of a not too traditional summer, you are still managing to get out and enjoy the beautiful summer days and relax a bit. After all, there may be a pandemic around us, but it's still summer!! And for our bodies and minds, we still need and deserve this time to relax and recharge!

So if you have been out by the pool or beach soaking up the sun, you may be starting to notice that your skin is looking a little worn out and tired, perhaps dry and thirsty. Well don't ignore it!! So let's right to it and address some of those common summer skin issues!!
ACNE
Ah! No matter the age, this is a big one, and the American Academy of Dermatology says it's one of most common issues. When sweat mixes with bacteria and oils on your skin, it can clog your pores. If you have acne-prone skin, this often means breakouts. Dermatologists recommend the following to help prevent acne:
Blot sweat from your skin with a clean towel or cloth. Wiping sweat off can irritate your skin, which can lead to a breakout.

Wash sweaty clothes, headbands, towels, and hats before wearing them again.

Use non-comedogenic products on your face, neck, back, and chest. The label may also say "oil free" or "won't clog pores."
DRY AND IRRITATED SKIN!
When outdoor air is hot and humid, you can still have dry irritated skin. The biggest culprits are spending time in the sun, pool, and air-conditioning. If your skin starts to feel dry and irritated despite the humidity, try these tips:
Shower and shampoo immediately after getting out of the pool, using fresh, clean water and a mild cleanser or body wash made for swimmers.

Apply sunscreen before going outdoors, using one that offers broad-spectrum protection, SPF 30+, and water resistance.

Use a mild cleanser to wash your skin. Soaps and body washes labeled "antibacterial" or "deodorant" can dry your skin
FOLLICULTIS
This is an infection of the hair follicles. It causes a pimple to form at the opening of the follicle, which can itch and be painful. Folliculitis is more common in summer than in the colder months.
-To keep it at bay, always wear breathable clothes and change from tight, sweaty clothes after you sweat. Also, 
-avoid too much time in hot tubs and pools when you are not sure of their chlorine levels. Insufficient chlorine levels allow folliculitis because bacteria can thrive. When folliculitis spreads and causes you to develop a fever, you should see a doctor.
ECZEMA FLARE-UPS
Heat and sweat are some of the irritants that can lead to eczema flare-ups. Also, dry air can cause a flare-up. People who have a history of eczema are more susceptible to flare ups during summer. The symptoms include itching, red skin patches and bumps. To control these symptoms-
Take regular showers to cool the body

Wear loose-fitting clothes and
Drink a lot of water
Do not scratch!
So the common link between all of these skin issues is that the skin is inflamed and irritated. Whether that be from sun, sunscreen, heat, or harsh chemicals like the chlorine in your pool. We need to combat that with products that are calming. And calming products does not mean they are not effective. Actually some of the most active and effective skin care ingredients have a calming effect. There is a misconception that the more abrasive ingredients work best in skincare but a lot of times they end up being more counter produtive.
Let's talk about what you need for a summer filled with beautiful skin. The MK Hydration Collection is your one stop shop!
Refreshing Botanical Wash - Inspired by the ever present heat of the Arizona desert, this daily facial cleanser refreshes, calms, cools, and gently exfoliates as it draws out and sweeps away impurities. Formulated with nourishing ingredients that respect the skin's natural ecosystem, this coconut derived foaming gel will leave your skin feeling perfectly clean and comfortably balanced.
Refreshing Swipes - Refresh and Balance both your skin and senses.These are the perfect addition to your skincare routine to help breathe life back into tired, dull skin. 
Key Ingredients:
Organic Aloe

Willow Herb

Jasmine

Clary Sage

Sandalwood

Raspberry Leaf Extract.
Vital C Repair Serum- This supercharged serum of bio-available Vitamin C is packed with powerful actives, nurturing antioxidants, essential nutrients, and our unique brightening ingredients, all working synergistically to help brighten, firm, smooth, improve skin tone and texture and help reduce the signs of photo-aging. The light weight formula easily sinks into the skin, delivering nourishing benefits while helping to visibly improve skin health and radiance.
Vital A Rejuvenating Serum-This night time serum is the perfect way to partner with the aging process. With a patented vitamin A Retinaldehyde complex that converts into retinoic acid, this synergistic blend of Vitamin A, Niacinamide, and an antioxidant charged skin lightening compound, will transform the look and feel of aging skin while enhancing the skin's natural renewal process.
Calendula Moisturizer -This one is the real magic right here. This rich moisturizing cream minimizes the effects of dryness from climate or lifestyle for the face, neck, and décolleté. This moisturizing cream is for deeply penetrating skin hydration and super anti-oxidant defense. This active-packed moisturizer brings herbal extracts into a new generation. Calendula, a proven anti-inflammatory and a beta-carotene gold mine, provides soothing weather protection while preventing redness and chafing.
Certified organic Myrtle extract limits aging induced by oxidative stress by protecting and detoxifying the cells of the dermis and the epidermis. Skin functions are reinforced as potent phenolic compounds stimulate natural antioxidant defenses, neutralizing chemically induced free radicals.Clients love that this classic cream will boost moisture to youthful levels. The combination of Shea Butter, Aloe Vera and Oat Extract provide rich hydration without being oily.
These amazing products are all available atMikelKristi.com. They are sold individually OR you can purchase our Hydration Collection on sale for a limited time. Discount is automatically applied.
Take care of that beautiful skin, and enjoy your summer!!!
Xo, Christy

Check Out This Weeks Video To Learn More on Summer Skincare