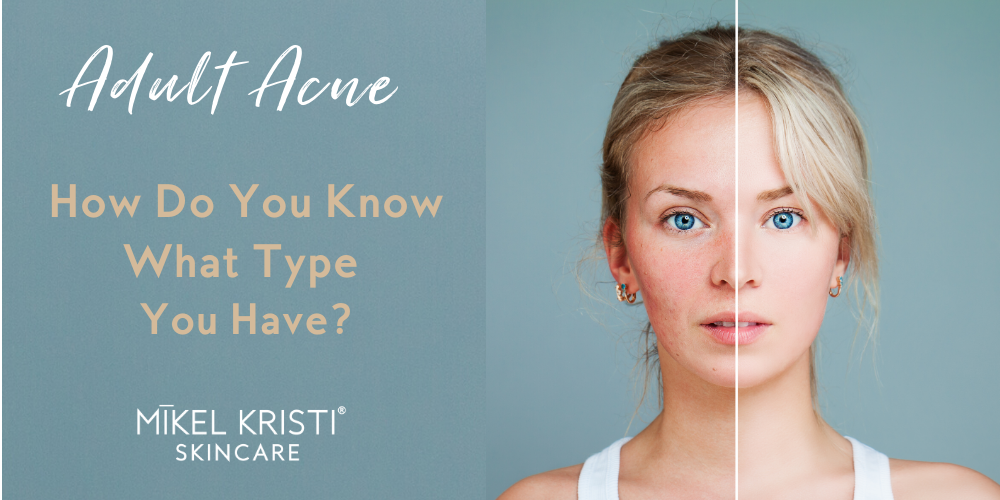 Adult Acne… How do you know which kind you have??
We all thought if we could power through our teens and the dreaded breakouts that came from time to time, we could end up on the other side with a life time of glowing acne free, clear skin. But your teens turned into your 20's and then your 30's…. Surely puberty has come and gone, so WHY is this happening?? Well there are a few possibilities why. And to improve your complexion from this stubborn ailment, we must first understand why we are suffering from it in the first place.
So today we are going to discuss Adult Acne vs. Hormonal Acne
Adult Acne
Adult acne, or post-adolescent acne, is acne that occurs after age 25. For the most part, the same factors that cause acne in adolescents are at play in adult acne. The four factors that directly contribute to acne are: excess oil production, pores becoming clogged by "sticky" skin cells, bacteria, and inflammation.
There are also some indirect factors that contribute such as:
hormones, stress, and the menstrual cycle in women, all of which can influence oil production

hair products, skin care products, and makeup, which can clog pores

diet, which can influence inflammation throughout the body.
Now let's talk about hormonal acne:
This CAN occasionally go hand in hand with adult acne, especially for women when it comes to female hormones related to menstrual cycle.
During puberty, hormonal acne often appears in the T-zone. This includes your forehead, nose, and chin.
Hormonal adult acne typically forms on the lower part of your face. This includes the bottom of your cheeks and around your jawline.
For some people, hormonal acne takes the form of blackheads, whiteheads, and small pimples that come to a head, or cysts.
Cysts form deep under the skin and don't come to a head on the surface. These bumps are often tender to the touch.
What can I do?
Limit red meat and dairy

Wash your face in the morning and again in the evening.

Apply no more than a pea-size amount of any acne product. Applying too much can dry out your skin and increase irritation.

Wear sunscreen every day.

•Use Retinoids, AHAs and BHAs to increase natural exfoliation to help clean out pores and decrease pore clogging. Our Vital A Rejuvenating Serum and our Rejuvenating Swipes are the perfect combination for acne prone and oily skin. 

Never go to bed with makeup on.

Check labels: when purchasing cosmetic and

skincare products

, always look for the terms "non-comedogenic," "oil-free," or "won't clog pores."

Mikel Kristi Purifying Botanical Wash is one of those perfect products to use for your acne.

Find balance and clarity with this botanically-based, multi-tasking cleanser. The light and luxurious foaming gel helps wash away impurities and makeup while retaining essential moisture removing excess oil, and decongesting pores with ease. Our antibacterial essential oil blend helps smooth, soothe, purify, and protect. Indulge in the lemony citrus scent and enjoy small moments of luxury everyday. Some other things to know about this multi-tasking' face wash that purifies, cleanses, and clears away skin impurities without irritation…




- Gentle, plant-derived foaming agents deeply cleanse, soothe, and balance the skin




- Natural exfoliation and renewal promote more vibrant skin health




- Potent, free radical busting antioxidants and always cruelty free




- Potent antibacterial blend targets bacteria that may cause breakouts
CLICK HERE FOR 20% OFF OUR PURIFYING BOTANICAL WASH (120ml).
USE  CODE PURE0620 AT CHECKOUT.