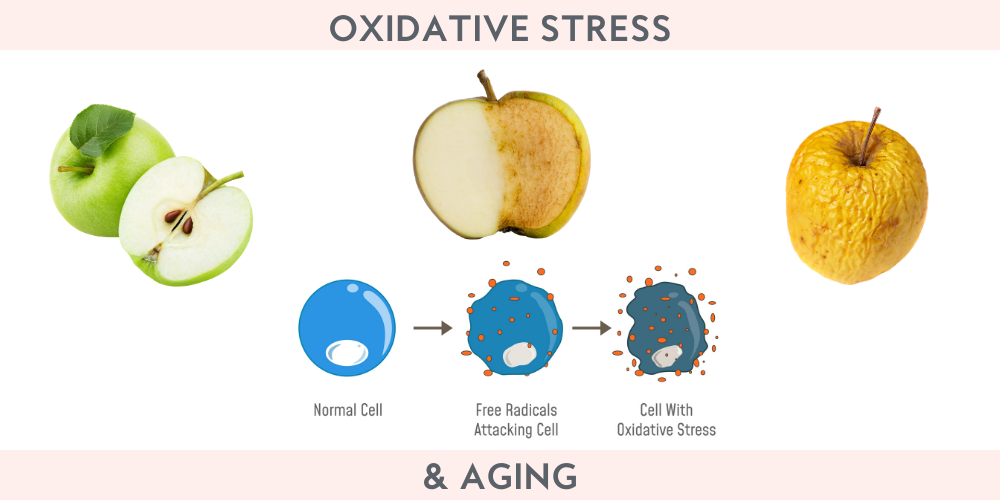 Let's talk about stress… the oxidative kind!!
We all know what stress is… we all get it from time to time. Busy jobs, kids, non stop schedules…the list goes on and on. Well stress to some degree is good for us, but too much can contribute to a host of health issues, and those include not only mental ones but physical ones as well… But take that stress one step further and you'll hear a term called oxidative stress, and that is what we are going to talk about today.
So what IS oxidative stress??
Oxidative stress is an imbalance between free radicals and antioxidants in your body. Free radicals are oxygen-containing molecules with an uneven number of electrons. The uneven number allows them to easily react with other molecules. Free radicals can cause large chain chemical reactions in your body because they react so easily with other molecules. These reactions are called oxidation. They can be beneficial or harmful.
So that all sounds like a bunch of complicated science to most of us.. What you probably want to know next is…
Is this happening to me?
Oxidation is a normal and necessary process that takes place in your body. Oxidative stress, on the other hand, occurs when there's an imbalance between free radical activity and antioxidant activity. When functioning properly, free radicals can help fight off pathogens. Pathogens lead to infections.
When there are more free radicals present than can be kept in balance by antioxidants, the free radicals can start doing damage to fatty tissue, DNA, and proteins in your body. Proteins, lipids, and DNA make up a large part of your body, so that damage can lead to a vast number of diseases over time. 
So what can all of this do to my body???
Well it can cause a lot of health issues…Here are just a few of them..
But do you know what else oxidative stress does???….
Oxidative stress contributes to aging!!! That means premature aging, sagging skin, and the overall appearance of looking older!!
So the good news is, even if stress isn't always avoidable, we can take certain steps in our daily routine to combat this!!


Eat a healthy diet rich with the following foods:
berries

cherries

citrus fruits

prunes

dark leafy greens

broccoli

carrots

tomatoes

olives

fish and nuts

vitamin E

vitamin C

turmeric 

green tea

melatonin

onion 

garlic

cinnamon 
Pro Tips:
Use products that help protect your skin from the sun, like our
Mikel Kristi Calendula moisturizer
! This rich moisturizing cream minimizes the effects of dryness from climate or lifestyle for the face, neck, and décolleté. This moisturizing cream is for deeply penetrating skin hydration and super anti-oxidant 
defense. This active-packed moisturizer brings herbal extracts into a new generation. Calendula, a proven anti-inflammatory and a beta-carotene gold mine, provides soothing weather protection while preventing redness and chafing. Also try our
Mikel Kristi Orange Calendula Lip Balm.
This Ultra smooth Lip Balm is infused with Orange essential oil and Calendula to help soothe and soften while moisturizing your lips throughout the day. Helps to expedite the healing of dry or chapped lips, leaving them soft and supple.
VISIT OUR WEBSITE FOR 10% OFF ALL CALENDULA PRODUCTS. USE CODE CALENDULA10 AT CHECKOUT!!
Don't smoke. 

Use caution with chemicals

Be environmentally conscious..

Wear sunscreen  

Decrease your alcohol intake.

Get plenty of sleep.
So while you can't avoid all of the components that can bring on oxidative stress, you can make choices everyday to combat this issue and take care of yourself, not just on the inside, but the outside too so you can keep that skin glowing for years to come!
 This Week's Video: Oxidative Stress & Aging