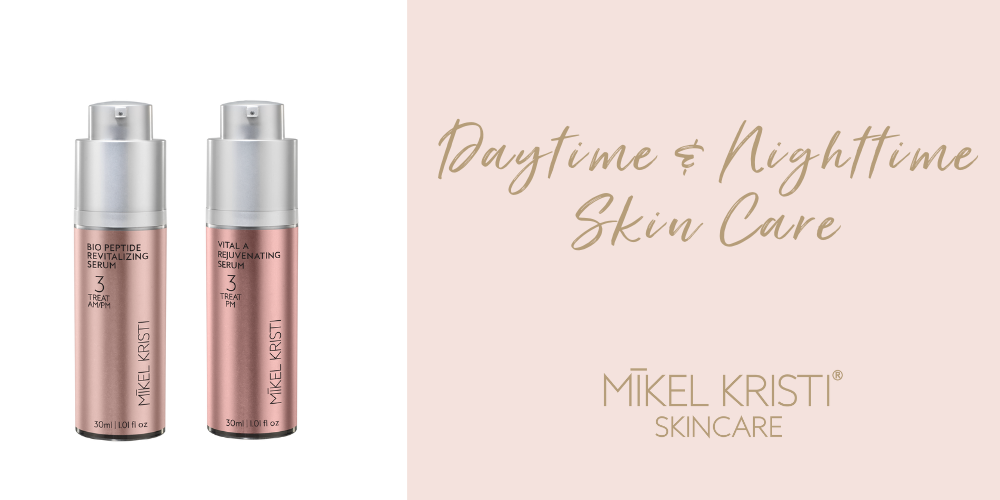 Why what you use and WHEN you use it may just be the MOST crucial part of your daily routine!
Hello beauties!! 2022 is here and with it, I know we all are hoping for health, happiness and LESS pandemic talk!! Well, I am here to share with you some feel good news on taking care of your skin! In my last blog, we talked about easy ways to take care of you in the new year, and I have more easy info for you today that can easily become part of your 2022 new you!
First - let's talk about the daytime vs. nighttime skincare
Why is it different? If I use good products in the daytime, wouldn't I do the exact same thing at night?
Well for starters, the things your skin is 'seeing' and being exposed to in the day time are probably quite different than while you are fast asleep in the comfort of your bed!!
That is why morning skincare is about protection and preservation while nighttime skincare aims to address skin issues before the regenerative process of sleep begins. During the day, we are exposed to the elements of nature, including UV rays, pollution, and dirt and grime. And at night, this may actually be the most important because the skin absorbs and replenishes while you sleep. To get the best benefits, this is when you should use your heavy-duty skincare.
Daytime Tips
Besides using a gentle face wash and our lavender hibiscus toner in the AM and PM, we love to recommend our Mikel Kristi Revitalizing Bio Peptide Serum. THIS product is a great choice for day and night. This eco-lux serum is an all-around powerhouse that your skin will love! Expertly crafted to address dull and lackluster skin, textural irregularities, blemishes, uneven skin tone, and fine lines, while providing a daily boost to your skin's natural renewal process. 
But the serum you ALSO want to use in your morning routine is the MK Vital C Repair Serum. This supercharged serum is your daily nourishment of bio-available Vitamin C. Packed with powerful active ingredients, potent antioxidants, essential nutrients, fruit enzymes, and our unique brightening complexes, all working synergistically to help brighten, firm, smooth, improve skin tone and texture, and help rejuvenate from signs of photo-aging. The light weight formula easily sinks into the skin, delivering visible benefits while enhancing skin radiance.
Why use Vitamin C in your morning routine?
Vitamin C can help to prevent UV damage. So, in addition to your sunscreen, this is another powerhouse that can help prevent damage from free radicals that can occur throughout the day causing wrinkles, sun spots and premature aging.
After apply MK Vital C Repair, proceed with application of your zinc oxide based sunscreen.
When it comes to evening skincare, let's switch things up a bit!
Wash and tone just as you would in the morning. But this part of the routine is where we add the real powerhouses so our skin cells can turnover and regenerate while we sleep!
First, Let's talk swipes!
Swipes, while also full of amazing skin care nutrients, serve a special purpose. They are actually quite simple to use, as well!! They are perfectly dosed, pre-moistened pads that glide seamlessly over the skin to swipe away residual dirt, debris, and surface impurities. These are not like the heavy astringent pads you may remember from your youth, but an innovative combination of ten organic essential oils that simultaneously clarify, promote healing, and exfoliate dead and dulling cells. Used as a part of your regular skincare routine, these Swipes pH balance and prime your face for enhanced absorption of additional skincare products. Boost cellular renewal, brighten lackluster skin, decrease fine lines and wrinkles, and refine skin texture all with one swipe!  Use these at night after cleansing 3-7 times per week.
Last but not least!! Finish up with Mikel Kristi Vital A Rejuvenating Serum
Vitamin A skin care products improve the health of your skin. They work by helping your skin to function at maximum capacity, which in turn helps your skin to stay strong and healthy. This makes it a powerhouse in your skin care regime. It was conclusively proven in 1996 that Vitamin A as a topical skin ingredient is capable of reprogramming cellular function. This is why almost everyone should be using it. Not only to help you age more gracefully with less wrinkles and have clear skin with less clogged pores, but more importantly, so your skin is healthier as you age.
Our MK Vital A Rejuvenating Serum is used at night and is the perfect way to partner with the aging process. With a natural Vitamin A Complex, this synergistic blend of Vitamin A, Niacinamide, and our antioxidant charged skin lightening compound, will help transform the look and feel of your skin, while helping to support the skin's natural renewal process. For ease of product application, blend the Vital A with the Bio Peptide Serum and apply together. Use Vital A at night ONLY! Retinol makes your skin more sensitive to UV rays and the sunlight can also decrease the efficacy of the product. 
These few things can make BIG changes in your skin care routine! And the best part, when using Mikel Kristi Skincare, you can get through your morning and evening routine in under five minutes!! That seems well worth it for the most gorgeous skin of your life!!!
Until next time Beauties,
Xo, Christy