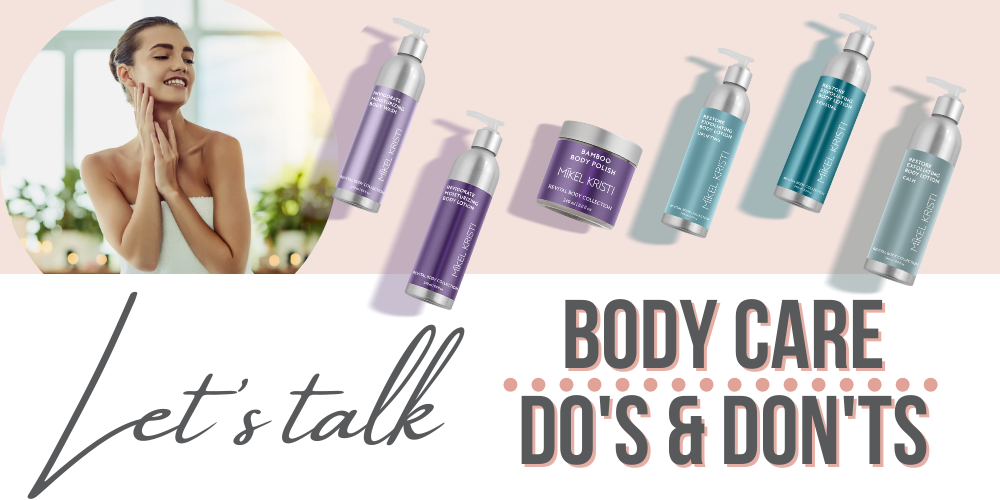 Faces get ALL the Love! 
For Valentine's Day, give your body some love too!!
We talk about the importance of a good facial skincare routine on the daily. The importance of using a good gentle face wash, toning your skin to prepare for the nutrient filled products that will be applied next, and finally the necessary daily step...sunscreen! But what are you doing for your body?
Most of us do a quick lather of whatever body wash we have sitting in our shower. And we truly do not think twice. Everything else gets all the love, like our facial routine and our hair! But let's talk about simple steps you can take to love your body too!
First Step - Body Wash!
It is important to find a moisturizing wash, not just hydrating! Did you know there is a difference? The moisture will help your skin over time and not just give your skin a temporary feeling of hydration. 
You want your body wash to be naturally scented, as well. Naturally occurring oils are also wonderful. They can help the skin remain balanced, as it mirrors the skin's natural lipids. This will help to break down bacteria and other unwanted substances while retaining moisture in the skin.
What to Avoid!
These are 6 ingredients you want to steer clear of, but they are used regularly in over-the-counter products to give a more aesthetic look, feel, or scent. These ingredients may be harmful to your skin and health.
Sodium Laureth Sulfate aka SLES (very common foaming agent)
Sodium Lauryl Sulfate aka SLS (very common foaming agent)
Propylene Glycol (antifreeze)
Cocamidopropyl betaine (foaming agent)
Triclosan (antibacterial and antifungal agent)
DMDM hydantoin (antimicrobial)
Now Let's Talk Body Creams and Lotions!
The body cream or lotion you use may be even more important than your wash, because this is what is going to sit on your skin. Like we always say, the skin is the largest organ of your body, so it's important that what is being penetrated into your skin is safe!
Applying a good body lotion should be an integral part of your daily skincare routine. Dry, dehydrated skin can appear red and ashy, and in the desert climate that we live in, the dryness can also begin to itch or even flake. Once this happens, dehydrated skin cannot repair itself as quickly, so it begins to age at an accelerated rate. 
There are so many body lotions and creams on the market, and they range in all price points, just like facial creams. But here are some of the most important things to look for when you're on the hunt for a new product.
Some of the Best Ingredients to Look For!
Ceramides. Ceramides are lipid molecules found in the membrane of skin cells that are credited with helping to prevent moisture loss
Essential fatty acids to aid in healthy cells and hydration
Glycerin, glycols, and polyols to increase moisture retention
Hyaluronic acid to increase hydration
Sodium PCA to increase moisture absorption
And What to Avoid!
Synthetic Fragrance. This term covers any and all engineered scent agents
Phthalates
Parabens
PEG (Polyethylene Glycol) 
Retinol
Formaldehyde
SLS (Sodium Lauryl Sulfate) 
SLES (Sodium Laureth Sulfate)
Mikel Kristi is here to help you find what body products are best for your skin needs!
MK Skincare has just what you need to help your skin feel its best. Our Invigorate Moisturizing Line includes a moisturizing body wash, moisturizing lotion and body polish. These are perfect products to try if your skin is feeling dry after the winter months. This line enhances the bathing experience with an exquisite blend of nourishing antioxidants, powerful actives, and a creamy, luxurious lather that is also sulfate free. Designed to wash away impurities, remove dead skin cells, and deliver a feeling of elevated well-being, this moisturizing wash will leave your skin feeling clean, refreshed, soft, and silky smooth.
Invigorating notes of fresh lemon verbena, tart grapefruit, and soft, beachy coconut are like a day at the spa and will have you looking forward to your morning shower. 
MK Skincare has also just released our newest line, the Restore Exfoliating Collection. This line includes beautiful lotions and a cream exfoliant, designed to exfoliate and slough away dead skin without overdrawing! The products gently use chemical exfoliation and won't irritate even the most sensitive skin.
Some other highlights of this product line include:
Crafted with powerful Alpha Hydroxy Acids (AHA's) to gently exfoliate and renew skin while reducing the appearance of pores and bumps
Absorbs immediately without any residue
Gently exfoliates, soothes, smooths, and softens your entire body for a healthy, radiant glow.
Formulated with antioxidant and AHA-rich Organic Cranberry, Bilberry, and Lemon extracts for vibrance and softness
Vegan & Cruelty Free
Give your body some love this Valentine's Day!
Go to https://mikelkristi.com/collections/body and get your body products today and fall in love with your smooth, hydrated skin.
Until next time Beauties,
Xo, Christy