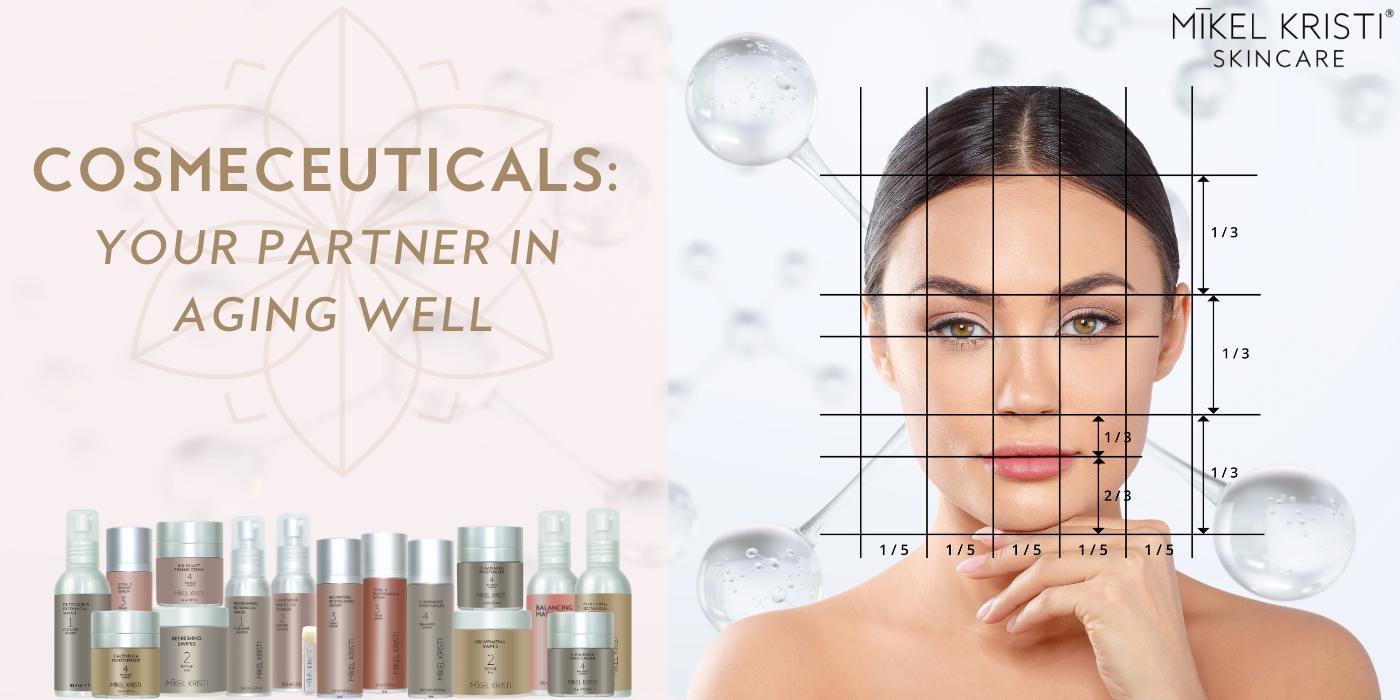 An Introduction To Cosmeceuticals
So, you may ask, "Why don't all skin products work?"  Many of us have bought the newest trendy product that we have read about in a beauty magazine or seen on TV, used it for a few weeks, see no results, and then put it in the cabinet never to be touched again. The fact is that YOU WANT TO SEE RESULTS!  You want your skin to look and feel healthier and younger. However, many beauty products fall short because those amazing "active ingredients" that they advertise aren't delivered to the right place in the skin, or in the right form to be effective. 


Cosmeceuticals vs OTC
Knowing the difference between over-the-counter (OTC) skincare products and cosmeceuticals is important if you want results, and you want them fast. The word cosmeceutical was created to describe unique products that fall between cosmetics or OTC skincare and pharmaceuticals, or prescription products. Cosmeceuticals are products formulated with bio-active ingredients that can penetrate the skin, reaching into the epidermis and the dermis, to alter and improve the function and appearance of the skin. Most OTC products are not considered cosmeceuticals and have active ingredients that just sit on the surface of the skin and don't actually create anti-aging changes. Don't get me wrong, OTC products can provide your skin with some benefits, but for optimal results, your skin needs potent, deliverable ingredients to nourish, restore and maintain it.

Ingredients
Make sure you are selecting beauty products with an eye for high-quality, effective ingredients. So, what makes an ingredient effective? Ingredients need to be able to penetrate, alter and improve the function of the skin to enhance collagen production, exfoliation, hydration and protection. These types of products are considered cosmeceuticals and not typically found OTC at your local pharmacy or department store. 

Product Penetration

Your skin is a protective barrier and its job is to prevent substances from entering your body.  For your skincare products to effectively penetrate the skin's barrier and create the results and changes that you want, the ingredients need to be formulated with special properties to safely enter the skin. Product penetration is based on molecular size, skin pH, polarity or molecular charge, and oil solubility.

For optimal penetration, technological advancements allow ingredients to be changed into smaller particles with nanotechnology and microspheres to increase skin penetration. Some people like to use oils like coconut or olive oil from their kitchen for "natural" moisturizers.  However, the size of these molecules cannot penetrate the skin so they sit on the surface to possibly help decrease water loss from the skin, but they don't actually help the skin produce more moisture. 


Encapsulation & Stability
Liposome encapsulation and microencapsulation are also technologies used to increase product penetration by increasing oil solubility and increasing ingredient stability. At Mikel Kristi, we use liposome encapsulation to enhance our results. Stability of  ingredients is also important. Many ingredients like peptides, Vitamin C and retinol are notoriously unstable when they are applied to the skin.  If an ingredient is unstable, many times it loses its effectiveness before it can penetrate the skin. With liposome encapsulation and microencapsulation this stability can be enhanced significantly and deliver these amazing ingredients to the right layer to give you the results you want.  

Skin PH
The pH of the skin can also affect product penetration.  Skin pH is altered with harsh cleansers and water. The pH of the skin is important in maintaining the skin's delicate barrier. But also, when we formulate products, we create them to penetrate at the skin's optimal pH.  So, by rebalancing the skin's pH prior to application of your anti-aging serums, you will get better results. The pH of the skin can be improved with the type of water used and with using a toner after cleansing.

As a side note on ingredient penetration, look for product lines that care about using cruelty-free, safe, and nontoxic ingredients. Some ingredients like phthalates, polyethylene glycol, fragrances, triclosan, and borates, to name a few, have been shown to potentially have disruptive effects on our endocrine systems.

By choosing cosmeceutical-grade skincare products, you will end up spending less money, use less products and have healthier, more beautiful skin.  Shop our highly effective cosmeceuticals at SkincareMK.com to get started on your skin rejuvenation journey today.