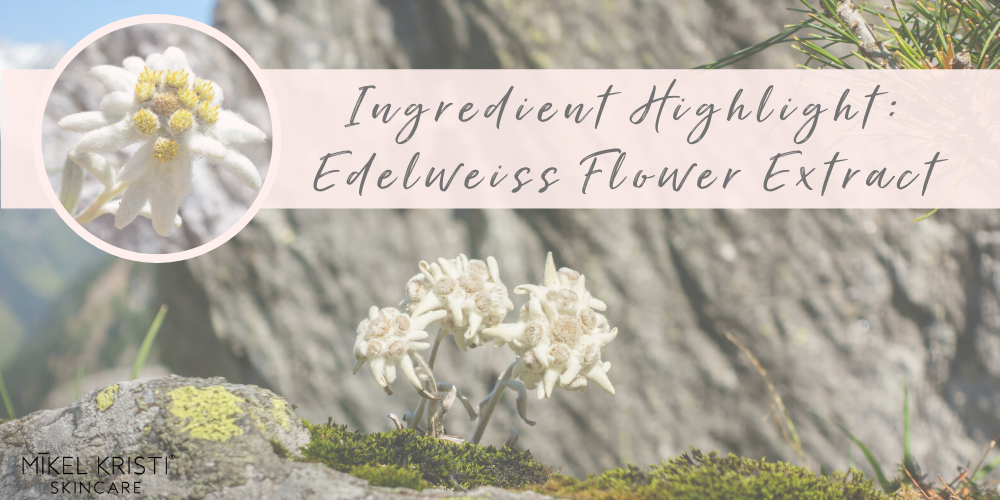 Plants have been an essential part of skincare and health for centuries. In skincare formulation, we often find that when plants can thrive in harsh environments with extreme heat, cold, or dryness, they develop amazing survivability qualities that tend to help our skin and tissues in a similar manner.  One such plant ingredient is Edelweiss flower extract. 


The Edelweiss flower grows in the harshly cold environment of the Swiss Alps.  It is a small white flower with the scientific name,Leontopodium alpinum. Although it is endangered, it is a highly resilient plant that maintains its beauty even in extreme frosts and harsh environmental disturbances. These traits have made the extracts of this flower highly useful in skin beauty.


The skin benefits of Edelweiss flower extract:
Potent antioxidant properties to help protect the skin from pollution and environmental stressors
Anti-inflammatory properties that help to protect skin from premature aging
Humectant properties that help with skin hydration and moisture retention
Although plants are a great source for ingredients, we also want to make sure we are not destroying endangered plants to meet our needs. Sustainably sourced ingredients provide us with these great ingredients, while at the same time protecting our environment. There are methods that can produce plant extracts (even from endangered plants) with the total absence of pesticides and contaminants, with significant reduction of water consumption, and with minimal soil use. Buying products from companies that care about sustainability will help ensure preservation of our environment, which is a core value for us at Mikel Kristi and a guiding factor in our product development.
At Mikel Kristi Skincare, we use Edelweiss flower extract in our Bio Sculpt Firming Cream.  The Edelweiss flower extract, combined with other sculpting ingredients, helps firm and tighten the neck, décolleté, or crepey skin anywhere on the body. I love this cream for not only my neck, but also for the crepey skin on my upper arms and thighs. With its nourishing, creamy consistency and cosmeceutical potency, your skin will be visibly firmer, smoother, and have a more voluminous appearance with the first application. This luxurious anti-aging cream disappears into the skin with absolutely no residue, but all of the results. Bio Sculpt Firming Cream has been a long standing  favorite of our clients for its unmatched skin firming and hydration. 
Try our Bio Sculpt Firming Cream and experience the skin firming, hydrating, and potent ant-aging benefits of Edelweiss Flower Extract for outstanding results!
Here's To Your Best Skin Ever,
Christy
 Check Out This Week's Video on Edelweiss & Sustainable Skincare