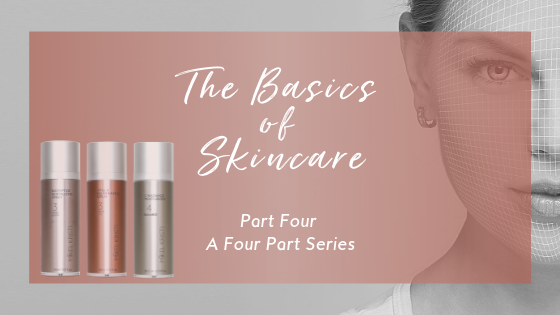 Collagen stimulation with your skin care products provides the most exciting results; Smoother, Tighter, and Younger Skin!
What is collagen? Collagen is a fibrous protein found in bone, muscle, skin and tendons. It is the most abundant protein in the skin. Collagen provides the structural network or "glue" that holds the body's tissues together. It is important for skin integrity, firmness, elasticity and hydration.
As we age, the body's ability to grow collagen slows. The decrease in collagen production becomes apparent with larger pores and increased wrinkling and sagging in the skin. The skin will thin and become more fragile as well. The great news is that collagen production can be stimulated with the right topical products and procedures.
Research has shown that certain product ingredients can stimulate the skin to produce collagen and reverse the signs of aging. These ingredients need to be formulated with the capability of penetrating the skin's barrier to reach the dermis or living layer of skin; therefore, not all product formulations are effective. The best topical ingredients for collagen stimulation are Vitamin A, Peptides and Vitamin C. Many other less effective collagen stimulating ingredients such as green tea extract, coffee berry extract, idebenone, glycolic acid and more are available as well.
Vitamin A in the form of retin-a or retinaldehyde is the most effective collagen stimulator for anti-aging. Everyone should use vitamin A nightly as a part of a good skin care regimen. Not only does retin-a and retinaldehyde stimulate collagen but they exfoliate and prevent acne and skin cancer. Many find that retin-a is too harsh and irritating. Retinaldyhyde is a potent alternative to retin-a with all the benefits and none of the irritation. With consistent use of topical Vitamin A, your skin will glow. You will also notice a reduction in pore size and wrinkles. Your skin will look and feel healthy.
Peptides are the newest and most exciting collagen stimulating ingredients on the market. Oligopeptide and polypeptides work by accelerating the growth of new skin cells, activating skin repair and promoting collagen production. After use for a few weeks, you will notice your skin looks smoother and softer.
Topical Vitamin C is another highly effective collagen stimulator. Vitamin C is essential for collagen synthesis. Humans are unable to produce the vitamin C necessary for collagen synthesis, so topical application is the most effective means of delivering it to the dermis or living layer of skin. Vitamin C topical serums need to be formulated for stability and penetrability for optimal results. Vitamin C should be applied in the mornings to also protect the skin from photo-damage and environmental damage.
mikel kristi Collagen Stimulating Products: Many of our products overlap to enhance your results with the basics of skin care: collagen stimulation, sun protection and exfoliation.
Vital A Rejuvenating Serum: Our Vital A Rejuvenating Serum is a nightly treatment serum that delivers the most stable and potent levels of liposome encapsulated Retinaldehyde for optimal penetration. This patent pending restructuring complex promotes cellular turnover and collagen stimulation which reduces and prevents wrinkles, reduces pore size, regulates oil production and bacteria. This serum is paired with our potent anti-inflammatory complex that offers skin brightening and sun protecting ingredients while calming and soothing the skin. (Collagen Stimuation, Exfoliation, Sun protection)
Bio Peptide Revitalizing Serum: Our Biopeptide Revitalizing Serum is a twice daily treatment that stimulates collagen production and revitalizes the skin by assisting the skin's natural repair functions. Formulated with safe, effective and highly researched peptides for your best skin. (Collagen Stimulation)
Vital C Repair Serum: Our Vital C Repair Serum is a morning treatment serum that tightens and brightens the skin. Topical application of Vitamin C is the most effective way of delivering this potent anti-oxidant to the skin. Our remarkably effective Vital C Repair Serum penetrates and refreshes the skin immediately. Our MK-Vital C Complex is blended with Organic Green Tea Extract, soothing Beta Glucan, and 4 other natural sources of Vitamin C. Vital C Repair Serum brightens, refreshes, and evens skin tone. (Collagen Stimulation, Sun protection)
Basic Skin Care Regimen:
AM: Cleanse, Sunblock
PM: Cleanse, Vital A Serum (Vitamin A)
Antiaging Enhanced Basic Skin Care Regimen (My favorite):
AM: Cleanse, Vital C Repair Serum, Bio Peptide Revitalizing Serum, Sunblock
PM: Cleanse, Rejuvenating Swipe, Vital A Rejuvenating Serum, Bio Peptide Revitalizing Serum
By choosing the right high quality products, you can easily achieve a radiant and healthy complexion.
— Christy