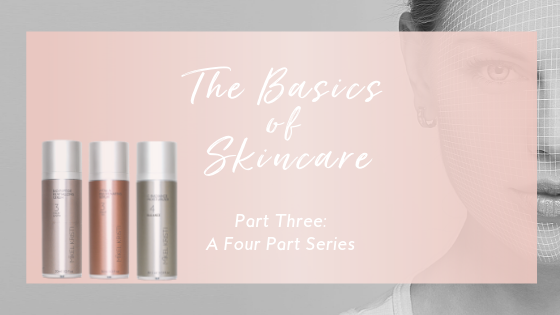 Daily gentle exfoliation is a very important step in any highly effective skin care regimen. As we age, our skin's natural exfoliation process becomes very inefficient leading to dull, dry, sensitive skin and clogged pores. The outer layer of skin, the epidermis, is comprised of dead skin cells and as this thickens, the skin's natural oils are not able to penetrate and moisturize the surface. With proper exfoliation, your skin will become healthier and more radiant.
There are 2 forms of exfoliation, physical and chemical. Physical exfoliation consists of scrubbing the skin with abrasive substances such as salt, sugar or apricot seeds. Physical exfoliation is not recommended on the face because the skin is very delicate and this type of trauma causes the skin to form a grainy, bumpy texture. Chemical exfoliation is the most effective, but be careful to choose a non-irritating product.
Chemical exfoliation can be achieved with certain topical ingredients. My favorite is topical Vitamin A in the form of Retinaldehyde (Retinal). These work by increasing cell turnover allowing for the body to remove the dead skin cells and replace them with new healthier skin cells. Retinaldehyde is a potent alternative to Retin-A. Retin-A can be a great exfoliator, but for many it is too irritating and drying. Retinaldehyde is a must for everyone because not only does it exfoliate the skin, it stimulates collagen and prevents sun damage and acne.
Other effective topical exfoliation ingredients are Alpha Hydroxy Acids (AHA) and Beta Hydroxy Acids (BHA). These have been a part of skin rejuvenation for centuries. AHAs and BHAs work by loosening the glue-like lipid bonds of the dead skin cells of the epidermis. The most common AHAs are lactic acid and glycolic acid. These are gentle exfoliators that can be used for all skin types. The most common BHA salicylic acid is also highly effective. BHAs are oil soluble and are best for acne prone, oily skin.
My favorite Mikel Kristi exfoliation products:
Vital A Rejuvenating Serum with
Retinaldehyde VB3 Complex: Our proprietary complex blends Retinaldehyde, the most effective form of Vitamin A, with Niacinamide and our antioxidant charged lightening complex resulting in significant cell turnover and collagen stimulation
Bisabolol: a potent anti-inflammatory, wound healing, de-sensitizer, cooling and soothing.
Red Algae Extract: natural sun protection, protects skin from photo-aging.
Rejuvenating Swipes with:
Organic Sugar Cane Extract gently encourages exfoliation
2% Glycolic Acid: the perfect bridge between the skin and our active ingredients
10 Organic Essential Oils: refreshing, rejuvenating, antibacterial
At this point, your basic skin care regimen should include the following:
Cleansing in the morning and evening with Purifying Botanical Washor Refreshing Botanical Wash
In the morning, topical application of a sunblock with SPF 30+ and zinc oxide. If desired, for additional anti-aging, Vital C Repair Serum.
In the evening topical application of Vital A Rejuvenating Serum. If additional oil control and exfoliation desired, add Rejuvenating Swipes.
Stay tuned for Step 4: Collagen Stimulation