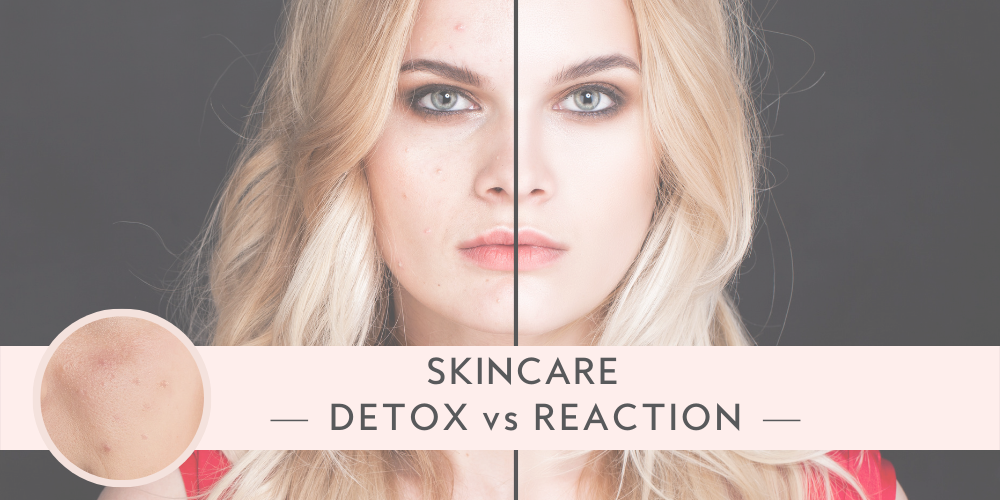 Let's say you've just started a new skin care regimen, and you are eagerly awaiting your promised results… but all you see 1-2 weeks later are more breakouts or red, flaky skin. What's going on here? 
There's a difference between when your skin is reacting adversely to your skincare products, and when your skin is simply "taking out the trash" in order to reveal the new cells waiting underneath. Below are some ways you can tell if your skincare is working to purge your skin of dead cells, impurities, and build up, or if you may be having a reaction and it's just not right for you. As always, please consult your skincare practitioner if you are experiencing extreme discomfort. It is better to be safe than sorry!


Sensitive and Dry Skin
If you have very sensitive or dry skin, you may notice redness and flaking when starting with more potent skincare products, especially those formulated to increase cell turnover. This is often a normal, temporary response lasting for about 1-3 weeks as the product removes dull, unhealthy skin, and newer restored skin is revealed. If the redness and flaking is unbearable, STOP using the product for 4-5 days to calm the skin. Then restart the process more slowly by applying the product every few days. This makes the transition from unhealthy to renewed skin more tolerable.

Acne or Blemish Prone

If you have any tendency towards acne, then starting a new, more potent skin care regimen may purge the skin and cause a temporary increase in breakouts. This happens because of the increase in cell turnover triggered by active ingredients like glycolic acid, lactic acid, salicylic acid, and Retinaldehyde, which will bring acne that may have been brewing under the skin to the surface more quickly. Be patient as the increase in breakouts may be an indication that the product is actually doing its job, and is working for you. This issue usually resolves in 3-8 weeks. However, it's best to work with an aesthetic medical professional to help you navigate the course so that you do not end up with more acne scarring.

Indicators of a Reaction:
Moderate to severe redness, blistering, pustules, moderate to severe itching, burning, swelling, hives, and/or cracking and raw skin. Stop application immediately, and see your skincare practitioner.

Mikel Kristi Skincare products use bio active, cosmeceutical ingredients to promote your skin's optimal health and function. Because of this, some may experience a temporary detox period as discussed above. If you are experiencing any of these issues, we're happy to discuss them with you and answer any questions you may have. You can send us a message here, or give us a call and we'll do our best to help you.
Gorgeous, healthy skin may be just a few weeks away, but the transition period can be concerning for some. Remember the goals for your healthiest skin are to; 
Increase natural exfoliation
Restore the skin's collagen layer
Protect your skin from environmental stressors and free radicals.
Achieving these goals may mean you will experience a period of "purging and renewal" to bring your skin to a state of optimal health and reveal your more youthful, radiant beauty. 


Detox vs Reaction Video Tips