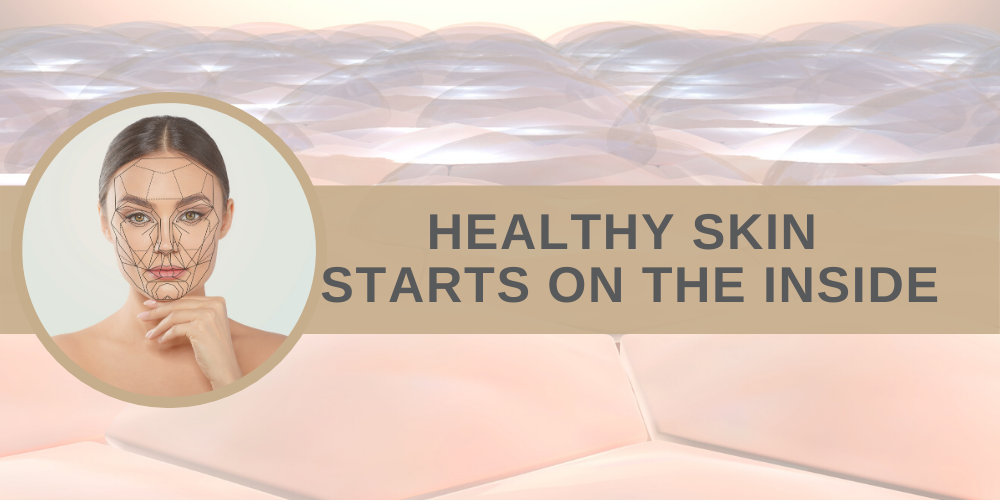 Beautiful, healthy skin starts on the inside. Many of us live in inflammatory states which show up on our skin as wrinkles, dullness, acne, dryness, discoloration and rashes. It is very important to understand that your lifestyle is the largest factor in your body's relationship with inflammation, or how easily you rest and repair. I'm not just talking about diet and exercise. Your home environment, your work, your relationships—all have fingers on the dial of your health and wellbeing.

If you want healthier looking and functioning skin, you have to tend to how you respond to the world around you. You can put the most amazing products on your skin, but the improvements can only go so far if you aren't taking care of yourself on every level.

Modern living bombards us with the following inflammation-causing factors:
Medications​​
Tobacco products
Daily chemical exposure: dryer sheets, household cleaning products, paints, and some skincare product ingredients (i.e. triclosan, toluene, parabens, phthalates, fragrances)
Processed foods often containing refined sugar, yeast, gluten, chocolate and trans fats
Unfiltered water containing contaminates like chloramines, copper, lead, arsenic (to name a few)
Meat and dairy products
Pesticides and GMO foods
Aspartame (Nutrasweet, Equal, Splenda)
Mercury (fish)
Sugary, caffeinated, and alcoholic beverages
Toxic personal relationships
Negative thoughts and beliefs
Stress
Self-deprecation
Destructive emotions, like anger and fear
Negative deeds
So, let's clean it up, to look and feel great. In addition to minimizing the above list, clean up your lifestyle and you will be glowing with health and vitality in no time. Your skin will look amazing, especially, if you add the right skincare products with it! Here are some cleansing tips to decrease inflammation:
1. Mental Cleanse to destress:
Commit to a deep breathing practice at least once a day, but more is better, to stimulate the parasympathetic nervous system (the rest and digest system). This will lower your blood pressure and cortisol response. Instructions: Inhale as deeply as possible into the abdominal cavity for six counts. Then hold your breath for 18-24 counts. Then exhale all air out completely in 12 counts. Repeat ten times.
Commit to sleeping 7-8 hours each night
Every day, list things that you are grateful for in your life
Be kind to yourself and others
Be conscious of your thoughts. Notice when you feel yourself going into a negative state and say to yourself, "thank you for sharing but STOP!"
2. Lymphatic cleanse: Your lymphatic system in a series of pump-less vessels and nodes that run alongside your vasculature. The lymph system not only cleans toxins and debris from the blood, it is also a huge part of your immune system.
Dry brush skin prior to shower
Bounce on ball or rebounder for 5-10 minutes per day
3. Dietary Cleanse: Eat for Cellular Vitality.
75 percent or more of your diet should be plant based. So, when preparing your plate, visualize it in quarters: 3/4 of the plate can be loaded with low glycemic-index vegetables and some fruit. The other 1/4 quarter with lean, organic proteins (i.e. beans, tempeh, seitan, tofu, game meat, etc.). Add a sprinkle of healthy fats like avocado, coconut, nuts or olive oil.
Drink at least 80 oz. of purified water daily. Add lemon or Celtic sea salt for electrolytes. 
4. Skin Cleanse:
For skin repair, health and renewal, use the topical vitamin A agent retinaldehyde in our Vital A Serum, peptides and growth factors in our BioPeptide Serum, and Vitamin C in our C Radiance Moisturizer or Vital C Serum. 
Follow this for a few weeks and watch your skin glow with health and vitality.


Check Out More Tips In This Week's Video