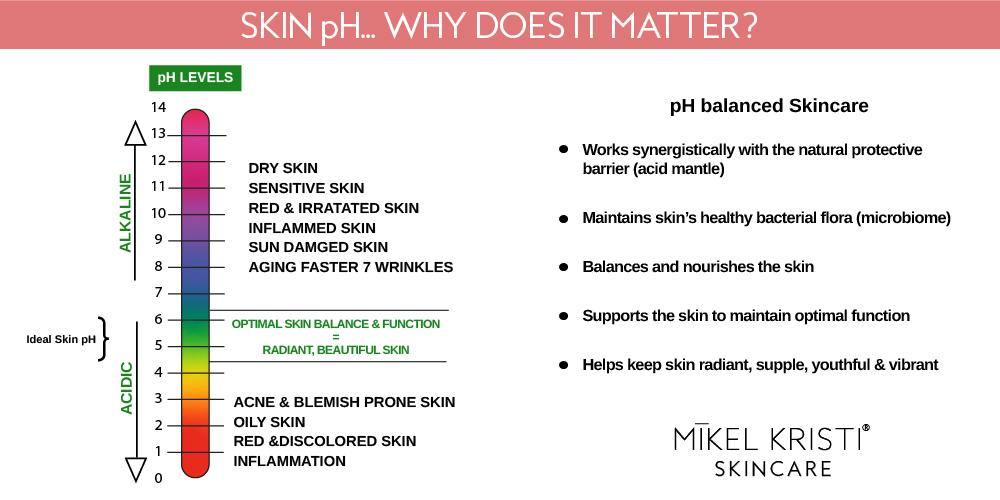 What is skin pH? 

PH is a measurement of how acidic or alkaline (basic) a substance is in comparison to distilled water which is neutral.  A neutral pH is 7.0, anything above is alkaline and anything below is acidic. The normal pH of your skin is around 4.5- 5.5, so slightly acidic. Skin tends to be in its healthiest state with a pH of less than 5.


Why does the skin's pH matter? 

The pH of the skin plays a role in maintaining the skin's natural, healthy bacterial flora, AKA microbiome, and its natural protective barrier, AKA acid-mantle. The acid mantle is a thin layer on the skin's surface made up of sebum combined with lactic and amino acids to create the skin's pH. The acid mantle and microbiome of your skin protect you from invaders like bacteria, viruses, fungi, and pollutants. When your skin's pH is chronically too high, you may experience more acne, rosacea and rashes. So, keeping your skin's pH at an optimal level will not only protect you but also give you supple, beautiful skin.
What alters the skin's pH?

The pH of your skin can be altered with exposure to substances like water, harsh skincare products, detergents, diet, infection and pollution.  Water is the most altering substance that we are all exposed to on a daily basis. The water source that you use to wash your skin with usually has a pH of 8.5 or more depending on how hard it is. The other most common mistake we make is using harsh cleansers and skincare products.  If you skin feels squeaky clean after cleansing, then your cleanser has a high pH and is disrupting the acid mantle. 
How to correct your skin's pH:

First of all, avoid skincare products that are too harsh, like using bar soap to wash your face.  Choose product lines that use gentle, yet effective ingredients to nurture your skin's health, like Mikel Kristi.  We use the best ingredients with clinical and scientific evidence to show efficacious effects for your skin. 
Secondly, toners help to adjust the pH of the skin after cleansing, which in turn allows for better penetration of the therapeutic and anti-aging bioactive ingredients in your serums that follow. This step is a must, especially if you live in an area with less than optimal water supply and washing your face with Evian is out of the question. Most skincare serums and moisturizers are formulated to penetrate the skin at its normal pH level. After cleansing, add our Lavender Hibiscus Toner to not only refresh your skin pH but to refresh your senses as well with its light lavender scent. Also, adding our Rejuvenating Swipes a few nights a week really boosts your skin's pH, hydration and natural exfoliation process. 
Lastly, use antioxidants like vitamins A, B3 and C on the skin to fortify your skin cells. Consume an abundant amount of fruits and vegetables to provide your skin with antioxidants from the inside as well. Healthy skin cells can more effectively resist the damages of pollution and UV damage to maintain an optimal pH, acid mantle and microbiome. Use our Vital A Rejuvenating Serum nightly for your vitamins A and B3.  Use our Vital C Repair Serumor C Radiance Moisturizerdaily for a healthy dose of Vitamin C.  

By maintaining a healthy pH, your skin will not only be more radiant and supple, but more youthful and smooth.