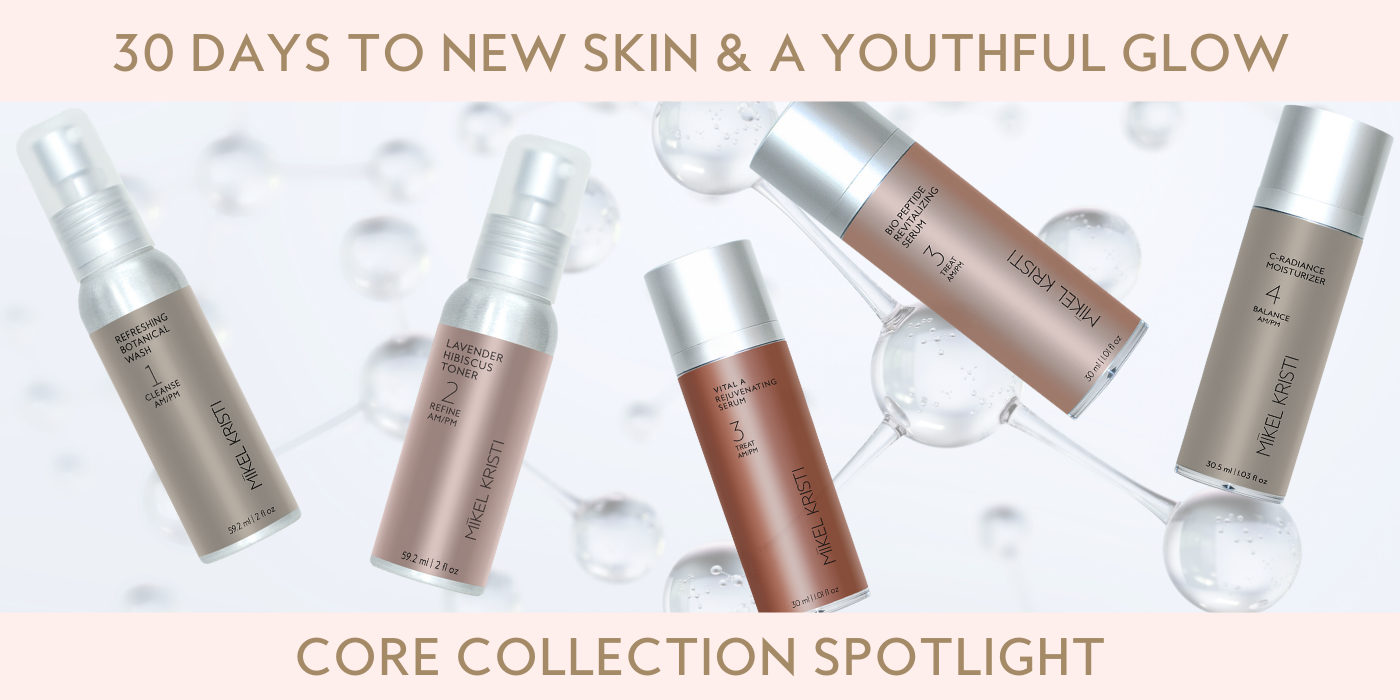 A new year and a new you with beautiful, radiant skin. Our Mikel Kristi Core Collection will feed your skin all the right nutrients for rejuvenation and health. The basic needs for all skin types are restoration, protection and exfoliation.  Use our Core Collection to meet and exceed these needs easily.


1.

Refreshing Botanical Wash

: 
For Exfoliation 
AM & PM, 
t
his cleanser is loaded with bio-active ingredients, that gently exfoliate the dead skin cells away, and essential oils to refresh and invigorate the skin
. This daily facial wash
 refreshes, calms, cools, and exfoliates, as it draws out and sweeps away impurities.
Cleansing the skin every morning is essential to remove the 

residue and excess dead skin cells from the skin's re

generative 

processes that occurred during sleep.
Cleansing the skin every evening is also important to remove the makeup and grime from the day and the prep the skinfor application of anti-aging ingredients.

Wet the face and hands. Then apply a dime-size amount of facial cleanser to the face using your fingers. Cleanse in circular 

motions for 30-60 seconds.

May use to remove eye makeup as well.

ONLY use your fingers to 

cleanse delicate facial skin. Abrasive washcloths and scrubs can 

damage the skin and create a rough sandpapery, blemished 

appearance. Facial brushes and soft facial cloths are fine, but not necessary. Rinse thoroughly with cool to lukewarm water. 
2.

Lavend

e

r Hibiscus Toner

:  
For Restoration 
and 
P
rotection 
AM & PM, 
r
efreshing pure lavender is the perfect herbal toner to immediately restore the skin's pH balance. Formulated with Organic Hibiscus Extract to help firm the skin and pave a clear pathway for smooth, even application and ideal absorption of our serums and/or moisturizers. Regular use helps calm redness and significantly increases hydration, while maintaining soft and smooth skin. For all skin types, including sensitive.


After cleansing the skin, apply a light spritz of our Lavender Hibiscus Toner to the face, neck and chest area, morning and evening.
The pH of the skin plays a role in maintaining the skin's natural, healthy bacterial flora, AKA microbiome, and its natural protective barrier, AKA acid-mantle. 

T

he pH of your skin can be altered with exposure to substances like water, harsh skincare products, detergents, diet, infection and pollution. Water is the most altering substance that we are all exposed to on a daily basis. 

T

oners help to adjust the pH of the skin after cleansing, which in turn allows for better penetration of the therapeutic and anti-aging bioactive ingredients in your serums that follow

.

3.
Bio Peptide Revitalizing Serum
:
  For 
R
estoration and 
P
rotection 
AM & PM, 
Bio Peptide Rejuvenating Serum is a super-concentrated daily treatment serum that uses our highly effective Bio Peptide Complex to refine, revitalize, and assist the skin's natural repair function. 
This serum is loaded with bio-active peptides and growth factors to promote collagen production for visible pore refinement and wrinkle reduction.


After cleansing and toning in the morning and evening, apply 1-2 pumps of this light serum to face, neck and chest.

4.

Vital A Rejuvenating Serum:  
For 
R
estoration, P
rotection and E
xfoliation
, PM Only. R
etinaldehyde is the best form of retinoid available. It is the immediate precursor to Retinoic acid; therefore, upon application, the skin converts a significant amount to the potent, bioavailable Retinoic acid for the positive benefits of anti-aging. Vital A Rejuvenating Serum is a nightly treatment serum that delivers the most stable and potent levels of Retinaldehyde. This patent-pending restructuring complex promotes cellular turnover which reduces and prevents wrinkles, reduces pore size, and regulates oil production. Our form of Vitamin A is paired with a potent anti-inflammatory complex (which includes Bisabolol and Red Algae Extract) that offers brightening ingredients, while calming and soothing the skin.
Apply 1-2 pumps to face, neck and chest in the evening.
5. 
C Radiance Moisturizer:  
For

 
R
estoration and

 
P
rotection 
AM & PM. 
Loaded with anti-aging properties, this silky and light-weight formula expertly delivers not one, but THREE forms of highly stable Vitamin C, where your skin needs it most. Think of C Radiance not only as a moisturizer, but your protection against the myriad of environmental stressors that your skin faces every day. This daily defender nurtures and helps fortify the skin to be more resilient than ever. Achieve ultra-hydration and glowing radiance from sunrise to sunset.  


Apply

 

thin layer to face, neck and chest in

 

morning and evening.

Our Core Collection provides everything you need to achieve balanced, healthy, beautiful skin.  For ease of application and time saving, we recommend cocktailing our serums and moisturizers together into one step.  In the morning, blend Bio Peptide Serum with C Radiance Moisturizer.  In the evening do the same but also add in Vital A Serum.  This can be done without diluting the effectiveness of the products because of our liposomal encapsulation technology.  Liposome encapsulation envelops the ingredients into a stabilized molecule for enhanced absorption and bioavailability.




Try our Mikel Kristi Core Collection today and see your skin transformation and glow over the next 30 days.


 Here's To Your Best Skin Ever!


Save 50% off your Core Collection with our Subscription Program,  plus receive 10% off every order as long as you have an active subscription.

Whether you want to Save, Skip, Swap, or Ship, you have complete control over your subscription. Our flexible program is designed to meet your skincare needs, whatever life throws your way. Here's what you can do through our dedicated account management page. 

1. Save - save up to 50% on your first subscription on any product and 10% off all one time product orders for as long as you have an active subscription.
2. Skip - Pause or change the delivery of your shipments whenever you need. 

3. Swap - Add or delete products in your subscription at any time. 
4. Ship - Choose your delivery frequency on every subscription product. Add products with different delivery frequencies at anytime. Choose to add one time product orders to any subscription shipment. 

5. Stop - Cancel your subscription at anytime after your first 10% off order (2nd product shipment). 
Select subscribe on the product page for 50% off your Core Collectionorder
today. 
 Watch This Week's Video On 30 Days To New Skin