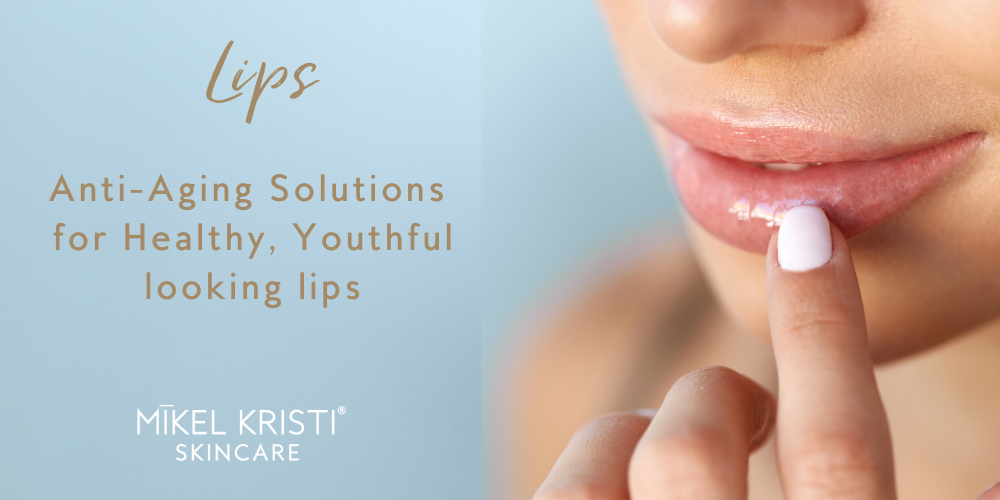 Our lips are often forgotten about in our daily skincare routines.
Did you know that when we communicate with one another, we most often initially look at the lips of the other person while they are talking and then move our gaze to their eyes? This helps us to better hear and understand what people are saying.  Because the lips are such an area of focus in communication, and in relationships, they need some extra love to keep them healthy, supple and youthful. 


Youthful Lips
The skin on the lips is more delicate and different from the skin on the rest of the body. It has a very thin protective outer layer (epidermis) making the lips more prone to damage and aging. The pink color comes from the dermis (deep layer) being very near to the surface so the blood flow here shows through easily. It's also important to note that there are no melanocytes, sebaceous (oil) glands, or hair follicles on the lips themselves making them extremely vulnerable to the outside climate, sun damage, and dehydration.
With aging and sun damage, your lips will become more wrinkled and smaller.  The skin on the lips ages just like the rest of your skin but at a more rapid rate due to the delicacy of the skin.  The skin here needs the same basic pillars of health maintenance as the rest of your face.  These pillars are:
Exfoliation
Restoration
Protection 


Show some Lip Love
The easiest approach to lip care is to just apply your facial skincare products to the lips at the same time.  I like to do a little added bonus treatment to my lips at bedtime.  After brushing my teeth and applying my night time Mikel Kristi skincare products, I apply a dab of our Vital C Serum to the lip area and then layer on our Crystal Eye and Lip Serum to lock in the goodness. Our Vital C serum feeds your lips all the nutrients they need for hydration, exfoliation and collagen stimulation.  It contains ingredients like Vitamin C, Niacinamide Vitamin B3 and Retinaldehyde Vitamin A to aid in gentle exfoliation, collagen restoration and protection.  The prickly pear extract will enhance hydration as well.  Our Crystal Eye and Lip Serum uses a unique technology to create a protective barrier to dramatically increase hydration and absorption of the Vital C serum.  Wake up with smoother, plumper and more supple lips.
During the day, make sure to apply SPF to the lips for sun protection.  Our Orange Calendula Lip Balm is perfect for daily hydration and protection.  It contains the soothing ingredients of calendula and orange essential oil for all day softening.

What to Avoid
Beware of lip balms that actually make the lips drier. Avoid ingredients like camphor, menthol, mint, phenol and fragrances.  These ingredients feel soothing at first, but can actually make your lips more dry with frequent use. Also, if you are a lipstick lover, then you are definitely going to need to do some lip care.  Most lip sticks are very drying so follow my nighttime lip regimen above and apply our lip balm over your lip color throughout the day for hydration. 

Pro Lip Tip:
Last but not least, make sure you drink enough water every day.  Other than our environmental damage, dehydration is the next most common cause of dry, cracked lips.  Drink at least 100 ounces of purified water daily. 


Lip Treatment Options for Anti-Aging
If you have lost lip volume due to aging and are not happy with just refreshing your lips with good skincare, then dermal fillers are always a great way to smooth and plump the lips.  Some fillers like Restylane Refyne or Juvederm Ultra are for smoothing fine lines; whereas, fillers like Restylane Kyss and Juvederm Ultra Plus are for plumping. To explore non-surgical facial treatments for your lips and beyond book your consultation or appointment with Christy at Skin Appeal Tucson by calling (520)261-SKIN.
Give your lips some love and get your Mikel Kristi Lip Products here or visit Mikelkristi.com today to get started on your skin rejuvenation journey.