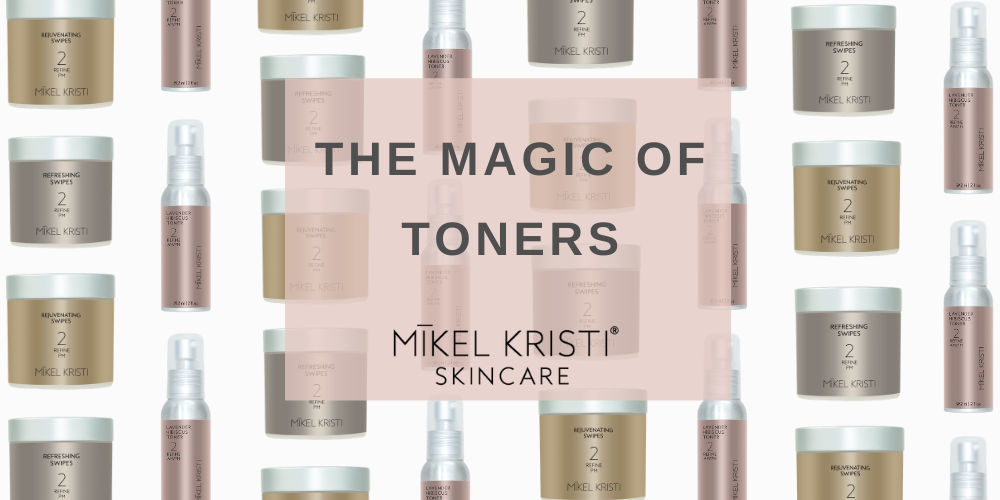 The Magic of Toners
Most of us are diligent with cleansing and moisturizing our skin but how many of us are as good with toning the skin? To be honest, this is a step that I sometimes skip and as I am writing this, I realize that I am doing my skin a disservice by doing so.  Are you toning your skin? If not, keep reading to understand the importance of this step and never underestimate the powerful punch this can bring to your skincare routine.
What is a toner?
Toners come in many forms, from hydrosols to essential oil sprays, or even potent swipes that act as an exfoliant.  Toners of the past were made of mostly alcohol and over-drying to the skin. The new generation of toners are made mostly of water and essential oils that soothe and hydrate the skin.  Think of your toner as a drink of water for your skin. They can be just the product that takes your regimen from good to great by allowing better penetration of your anti-aging serums and for normalizing your skin's natural oil production. 
More Benefits of Toning the skin:
pH Balancing: Toners help to adjust the pH of the skin after cleansing, which in turn allows for better penetration of the therapeutic and anti-aging bioactive ingredients in your serums that follow. This step is a must, especially if you live in an area with less than optimal water supply and washing your face with Evian is out of the question. Most skincare serums and moisturizers are formulated to penetrate the skin at its normal pH level. 

Pore refining:  Toners minimize the appearance of pores to give the skin a smoother look.

Cleansing:  Using a toner after cleansing can help remove any residual dirt, grime or makeup.  However, a toner does not replace cleansing. If you have cleansed well (30-60 seconds) with a gentle, effective cleanser like our Mikel Kristi Refreshing Wash, then you should not have much dirt, grime or makeup left on the skin. 

Oil balancing: Whether you have dry or oily skin, using a toner can help normalize oil production.  This is an especially important step for acneic and oily skin conditions. 

Soothing:  Toners can help decrease inflammation and restore the health of your skin's microbiome (bacteria and other microorganisms). 
Active ingredients to look for in botanical toners and wipes: 
Calming Ingredients: Aloe vera, lavender, orange extract, sandalwood oil, evening primrose oil, eucalyptus extract, 

Exfoliating ingredients: Glycolic acid, lactic acid, salicylic acid, lemon extract, willowbark extract, hibiscus flower extract

Antibacterial ingredients: Geranium extract, lemongrass extract, neroli extract, tea tree, grapefruit extract, lime oil, eucalyptus extract
Ingredients to avoid: High alcohol (isopropyl alcohol, methanol, benzyl alcohol) or benzoyl peroxide. These ingredients can be too drying and irritating.
Mikel Kristi Lavender Hibiscus Toner
A gentle facial mist that envelopes your skin in lavender infused nourishment to soothe, hydrate, and balance your complexion. Apply as the ultimate primer to enhance the absorption and efficacy of additional skincare products, or take it on the go to hydrate and refresh for a dewy glow throughout the day. With the hydrating benefits of aloe and the nourishing benefits of plant micronutrients, it's the cosmeceutical equivalent of a multivitamin for your skin.
Mikel Kristi Refreshing Swipes
With the Key Ingredients of Organic Aloe, Willow Herb, Jasmine and other plant micronutrients, these swipes leave your skin feeling fresh and clean. 
For your best skin, add in our Mikel Kristi Lavender Hibiscus Toner, Refreshing Swipes or both to your morning and evening skin routine.  Apply your toner after cleansing to prep your skin for optimal penetration of your anti-aging serums. Go to MikelKristi.com today. For personalized recommendations, check out our skin concierge online. 
THIS WEEK'S VIDEO: THE MAGIC OF TONERS