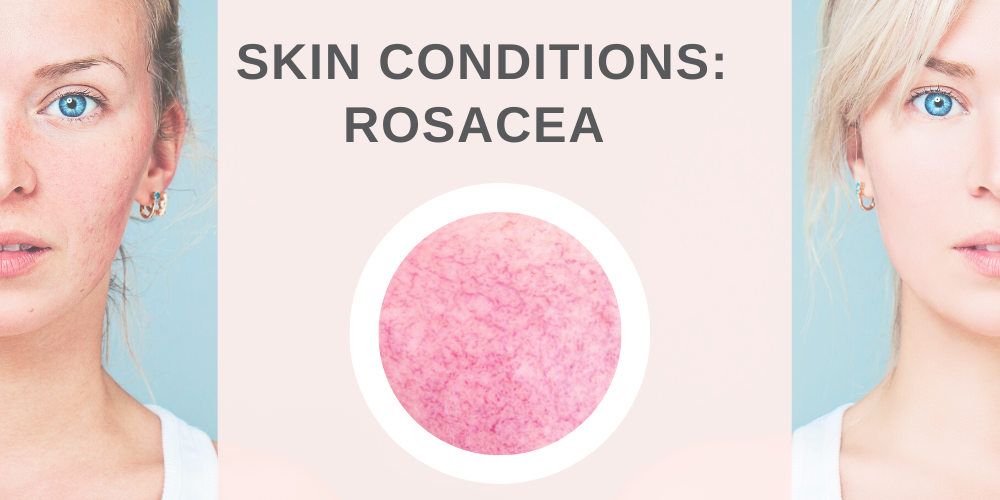 Rosacea is a skin condition with no real known "cause" although a variety of factors can absolutely contribute to this inflammatory issue. It can range in severity from a slight reddening of the skin, to a type of rosacea that can actually disfigure the face like in the case of Rhinophyma which thickens and augments the shape of the nose. 
Types of Rosacea 
There are three general different types of rosacea; 
Acneic

Glandular 

Redness
Common Flare Triggers
Rosacea flares can occur due to diet, stress, heat and/or UV exposure. For many people rosacea can be controlled with proper skin care products, laser or light treatments to decrease redness and vasculature, and an anti-inflammatory diet. Many people misdiagnose photodamage with rosacea. Years of chronic sun exposure can cause deep redness and telangectasias (blood vessels) that can look like rosacea. The good news is you can treat both in the same way. 
Do This, Not That 
Don't just try adding more moisturizer to your dry, irritated skin. Use ingredients that are going to improve the skin's health and function. 
Retinaldehyde is a great choice (due to its more gentle nature) to increase cell turnover and to restructure the epidermal factors to decrease dry, flaky skin and increase natural moisturization. But start slowly with Retinaldehyde to limit the initial irritation. Use it 2-3 nights per week and then slowly increase to nightly over a 6-8 week period. 
Calendula is a powerful anti-inflammatory and antioxidant ingredient for the skin. Apply twice daily in cream or serum form to calm and heal the skin. Calendula extract is made from flowers in the marigold genus. 
Wear an SPF with zinc oxide daily 
Have a BBL photo-facial treatment at least once a year to decrease redness and excess vasculature in the face. Initially, you may need 3-5 treatments to get your condition under control and then you can maintain with skin care products and periodic treatments. This will decrease the heat and flushing sensations from rosacea flares. 
Avoid your rosacea triggers. Common triggers are alcohol, spicy foods, stress, chocolate, dairy and gluten. 
If you have developed Rhinophyma, see a very skilled dermatologist or plastic surgeon for fully ablative CO2 or Erbium laser resurfacing to treat and reshape the nose. 
Follow an anti-inflammatory diet consisting of low glycemic index vegetables and fruits, healthy fats, and non-processed, non-dairy, gluten free foods. 

Example Topical Regimen for Rosacea:
AM
Cleanse Skin: Mikel Kristi Purifying Botanical Wash

Calendula Anti-inflammatory Moisturizer

SPF with Zinc Oxide 

Make-up if desired, Pure minerals with no Talc 
PM
Cleanse Skin: Mikel Kristi Purifying Botanical Wash 

Retinaldehyde vitamin A (Mikel Kristi Vital A Rejuvenating Serum) - Start twice a week and add an extra night every 2 weeks until using nightly.

Calendula Anti-inflammatory Moisturizer


True Confessions on Rosacea (Casey H.) 
"In my late twenties, I decided to take an active role in my health and wellbeing as a lifestyle. My career as a movement therapist was blooming, and I was ready for what the thirties had to offer. Cut to two years later, and although I was at the top of my field career wise my skin was telling another story. Redness on my cheeks started to develop with weird spots that then covered my nose. Being a redhead, I thought that maybe my skin was getting more sensitive so I cleaned out my products, and started on a more natural skin regime. I purchased all the skin healthy "therapeutic grade" essential oils I could find. Things only got worse. This was the start of my wild two-year long goose chase that emptied my wallet and my hopes for clearer skin. I tried EVERYTHING. Every celebrity that had pale skin and was endorsing a product, I jumped in, and producted up. I even bought a freaking infrared sauna to cure my face. NOTHING HAPPENED. I finally relented and went to the best dermatologist in town. He deemed my condition to be rosacea. And that there wasn't much he could do but prescribe me a topical cream, and tell me to clean up my lifestyle. What!?! I was already a dairy free, paleo, sober, meditating, non- smoker, intermittent faster, mover, exerciser, supplement taking machine. I got body work weekly, didn't have TV for years, and got acupuncture regularly. LIFESTYLE? That was his answer? I decided to ask a friend who has amazing skin who she trusted for advice. I got referred to Christy Hall, and I am so glad I did! She took one look at my skin and said "Yes, that's rosacea and here's what you need to do". She told me about my options of lasers and her suggestion of products that she specially formulated for people in my position. I thought "what's another product, when I already spent THOUSANDS of dollars?". So, I walked out of her office with her Vital A Serum, and a huge dose of skepticism. I thought I knew the gig when it came to vitamin A based products. I thought for sure it would increase my redness and sensitivity like it did back in the good old Retin A days. But to my surprise the morning after I applied it for the first time, I woke up to a little less irritation. Then the next day, the bumps got smaller. And literally in three weeks my skin was 80% clearer. EIGHTY PERCENT. I ran back to Christy and asked for the full-scale product hook up. And I have never looked back. My skin looks better than it has... actually ever. Every product has helped to bring my skin back from the brink of disaster. I recently did a BBL laser treatment to bump the skin healing, and after much whining beforehand, it was a complete breeze. That treatment made a difference in my skin reactivity and helped to fade the more stubborn spots. I'm so glad that Christy explained to me that skin "sensitivity" is just unhealthy skin that needs to gain back its ability to regenerate and exfoliate. Her knowledge and products are a Godsend, and I'm so thankful!"