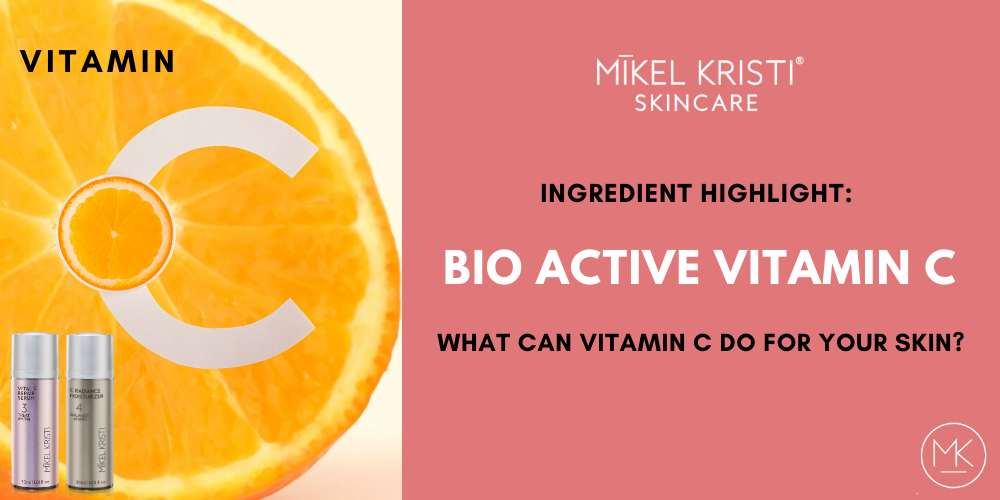 Vitamin C - Bio Active Ingredient
Let's talk about Vitamin C!!! Vitamin C is a true powerhouse! It aids your skin in a natural regeneration process, and that is how it helps your body repair damaged skin cells. There are three major antioxidant vitamins, Beta-Carotene, Vitamin E, and Vitamin C. And while all of them are critical to our health,
Vitamin C
takes the cake when it comes to skin care and skin health, so today let's break it down!
What is Vitamin C used for in skincare?
Vitamin C is one of the best antioxidants in skincare today. It is often considered the holy grail of products, and the reasoning is simple… it WORKS!
Products with Vitamin C can help with fine lines, acne scarring, improve the brightness of your skin, even improve texture and tone!
But what is it about putting it ON your skin that differs from just eating an orange or popping a supplement?

Well, just like eating vitamin C rich foods can help your body fight off free radicals (otherwise known as unstable molecules we are exposed to on a daily basis that can damage cells in our body), topical antioxidants can do the same thing. They help combat daily exposures to things like air pollution and UV rays. Vitamin C is the superhero in the fight against free radicals! They can reduce damage to our cells and help keep our skin cells healthy!! Vitamin C can also help combat skin against precancers due to UV exposure.

So, the best thing to do for yourself is load up on vitamin C in both forms!!! One does not replace the other!! When we eat and drink Vitamin C, we are only getting a small amount that is actually making its way to our skin. With a good quality serum or moisturizer packed with effective Vitamin C, our skin can absorb it much more efficiently, giving us greater benefits. Keep reading to learn more about the Mikel Kristi products you will want to add to your routine today!
Vitamin C in Collagen Synthesis
Another buzz word we have been hearing about in recent years is collagen stimulation!! With all the pills and powders and potions out there, what works?? How can we stimulate collagen in our own bodies? Collagen isn't just the magic that plumps your face and makes you youthful, either. Collagen is the most abundant protein in our bodies. It is the major component of connective tissues that make up several body parts, including tendons, ligaments, skin, and muscles.

So another feather in Vitamin C's cap is this!! Vitamin C actually regulates the synthesis of the structural protein collagen. ... to make that a little easier to understand, that means that vitamin C has been shown to stabilize collagen, thus increasing collagen protein synthesis and helping to more effectively repair damaged skin.
What does it treat?
So now you have learned a little more about Vitamin C, what is does, and how it plays a role in not only our body's health, but our skin's health, as well!!

Let's talk a little more in depth about some of the skin issues Vitamin C products can combat.
Sun Exposure
Although vitamin C serum isn't a substitute for sunscreen (in fact, sun sensitivity increases with use), the two together can work in tandem to boost the skin's protection from damage. Vitamin C is the component of this duo that holds off sun damage to cells.
Hyperpigmentation/ Brown Spots/ Age Spots
This is a common issue many women face, especially during the summer months. UV sun exposure and heat are the main triggers. Even wearing a sunscreen is sometimes not enough. The heat alone is enough to trigger this issue. I have patients who get a good bit of hyperpigmentation on their faces, right at the points where their hat or visor lays on their face. They wear sunscreen, use a hat for sun protection, but the heat and friction at the point where the hat lays on their faces is enough to trigger the hyperpigmentation. Studies have shown that Vitamin C helps to inhibit the enzyme tyrosinase, which helps to prevent melanin production. This can help fade dark spots and lead to a more even-toned complexion. And vitamin C will ONLY lighten your hyperpigmentation without actually lightening the rest of your skin!
Fine Lines
Because vitamin C boosts collagen production, it helps to slow the rate of which fine lines and wrinkles form on the face. Collagen production also helps slow the rate of facial sagging that comes with the aging process.
Acne Scarring
Vitamin C speeds wound healing and minimizes scar formation. It also helps to prevent your skin from drying out or aging quickly.

Try Mikel Kristi Vitamin C products today to see real changes!!!

Vital C Repair Serum- This supercharged serum of bio-available Vitamin C is packed with powerful actives, nurturing antioxidants, essential nutrients, and our unique brightening ingredients, all working synergistically to help brighten, firm, smooth, improve skin tone and texture and help reduce the signs of photo-aging. The light weight formula easily sinks into the skin, delivering nourishing benefits while helping to visibly improve skin health and radiance.

C Radiance Moisturizer- Loaded with anti-aging properties, this silky and lightweight formula expertly delivers not one, but THREE forms of highly stable Vitamin C where your skin needs it most. Think of C Radiance not only as a moisturizer, but your bulletproof vest against the myriad of environmental stressors that your skin faces every day. This daily defender nurtures and fortifies the skin to be more resilient than ever, all while instilling that sought after glow that can only be achieved with the utmost care. This product makes it easy for the skin to look calm, effortless, and radiant.

These products are powerhouses and will help with Brightening, Radiance, Hydration, Sensitive skin, defense, fine lines, moisturizing, firming, evening skin tone, rejuvenating, renewal, and collagen boosting!!

VITAL C REPAIR SERUM AND C RADIANCE MOISTURIZER 10% OFF. Use Code MKVITC10