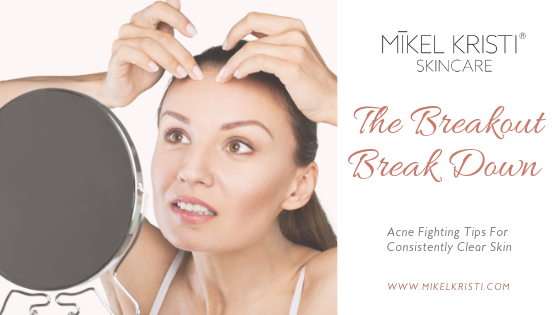 You may wonder, why do breakouts happen? How is your skin free and clear one day, and a complete trainwreck the next?


Believe us when we say that these skin disorders and eruptions often have been waiting under the surface to emerge. Almost all cases of acne start as a full body imbalance rather than a skin first issue.
With some outliers, acne is rarely a skin cleanliness issue, but more of an issue with hormonal balance. This may seem obvious when teenagers go through puberty or women experience their menstrual cycle, but is this really true in adulthood and also in the male population? The answer is most definitelyYES.
The truth of the matter is, we are exposed to toxic substances called xenoestrogens at an alarming rate these days. The receipts that we handle on a daily basis, the plastic surrounding our foods, our cleaning supplies, body products, and chemical food additives all act as endocrine disruptors that disturb the delicate balance of the human hormonal system.
Add to this the conventional meat and dairy industry, that loads their animals with hormones and antibiotics, and you've got yourself a near constant stream of organic and inorganic substances that are confusing your body's natural systems, your digestion functions, and your liver's ability to detoxify the body. All of this modern day exposure to toxins lead to many maladies, including persistent acne.
What can you do?
Clean out the kitchen and medicine cabinets and only use all natural products to limit your toxic exposure.

Keep foods in glass containers, and limit meat and dairy consumption.

If you do partake in animal products, be sure to source them from ethically raised farmers who use no hormones or antibiotics, and who also grass feed and finish their animals.
Don't Over Cleanse!
The next step is all about resisting the urge to over cleanse your skin! Acne is an inside, out problem.
Focus of gentle consistent exfoliation with our Rejuvenating Swipes to escourt the dead skin away, while depositing our potent anti-inflammatory blend of essential oils directly to the areas that need its powerful antimicrobial function.
Next, as tolerated, apply our Retinaldehyde based Vital A Serum to help increase cell turnover, and to restructure the skin at an even deeper layer, for more thorough exfoliation and rejuvenation.
A word of caution… when beginning a new and potent program to release the skin from acne, it is important to be patient when the skin goes through a detox phase. Our deeply effective skincare should bring skin disturbing "sleeper cells" to the surface more quickly. Stay the course, and in a few weeks you will be so glad you did. See this moment in time as a necessary purge to be rid of issues for good.
If waking up to constantly clear skin is of a top priority, clean out your cupboards, choose your foods wisely, and always apply Mikel Kristi products for safe, treatment grade, and highly effective skin care that really works!
Watch Our Latest Video For Acne Fighting Tips from Mikel Kristi Founder
Christy Hall - PA-C, MPAS
Finally, learn how to have consistently clear skin and fight acne from the inside out!