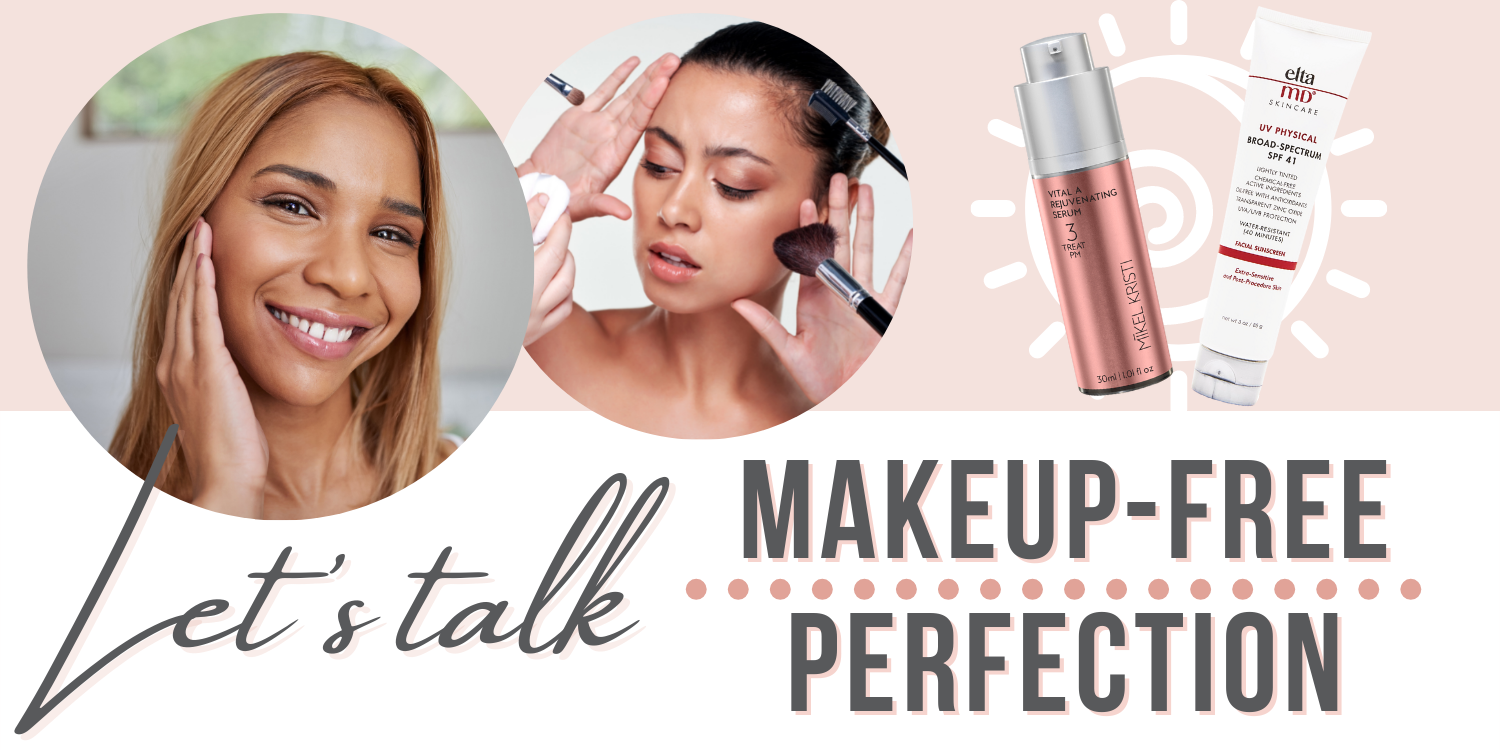 Enjoy A Makeup-Free Summer With Beautiful Skin!
   Can you believe summer is here? There is nothing better than feeling confident with a makeup-free face, especially during summer! Most of us use makeup to cover up flaws and imperfections. The time and effort to layer on makeup can be exhausting for most. Now take that makeup-filled face to the beach or pool? Who wants to risk getting that hard work washed away when you unintentionally get splashed? So why not stop hiding your skin's imperfections and just correct them? OR- just start RIGHT NOW to prevent those concerns that you may face down the road? Having beautiful, makeup-free skin is easier than you think when you use the right power-house ingredients, consistently, to improve your skin's health and function.
   First, let's discuss the most common issues that our skin will battle, due to naturally losing collagen in the skin and the many future and present stressors our environment has in store.
The biggest concerns my patients discuss with me are:
Fine Lines
Wrinkles
Large Pores
Then we face other skin hurdles due to sun damage. Such as:
   In addition, skin dullness and acne become more difficult to fight with the decrease in the skin's natural cell turnover and with hormonal shifts. 
 Here are 6 tips to free your skin from make-up:
1.
Shrink those pores so that you don't have to spackle on the foundation for a smoother look. My favorite powerhouse ingredients for pore reduction are peptides, hyaluronic acid, and sodium hyaluronate. Our
 Bio Peptide Revitalizing Serum
 is often referred to as "photo-shop" in a bottle by my patients. It's one of our most addictive products as it gives your skin that make-up look, without make-up.
2.
Erase those fine lines by boosting your body's natural collagen production. Nothing looks worse than wrinkles covered with make-up. Foundations tend to sink into every line on the face, making them more prominent. To find the most significant collagen-supporting products, look for dynamic ingredients like Vitamin A, Peptides, and Vitamin C. You'll notice your fine lines softening after just a few weeks of consistent use. Our 
Vital A Rejuvenating Serum
 contains a patent-pending vitamin A complex, which turns Retinaldehyde into retinoic acid once absorbed by the skin. This top-selling product will gently and effectively up your anti-aging game!
3.
Calm the redness by decreasing the skin's inflammation. Although sometimes lasers or photofacial BBL light treatments may be necessary to erase the stubborn redness in the skin, some powerhouse ingredients can minimize signs of aging and imperfections when those treatments are not an option. Calendula, vitamin C, peptides, and Tetrapeptides dramatically decrease inflammation and redness in the skin. Our Bio Peptide Revitalizing Serum and our 
C Radiance Moisturizer
 will calm and help to heal your skin quickly.
4.
Brighten and even the skin tone. Reverse the skin's hyperpigmentation and sun spots by using skin-lightening ingredients like vitamin C, kojic acid, and songyi mushroom extract. Add in our 
Vital C Serum
 for the most stable form of vitamin C enhanced with these plant-based skin-lightening ingredients.
5.
Bring the radiance back to your skin. Nothing looks better than the glow of healthy skin. Skin looks dull, feels dry, and pores get clogged when the skin's natural cell turnover process slows with aging. Increase cell turnover, AKA natural exfoliation, with glycolic acid, lactic acid, salicylic acid, and Retinaldehyde, found in our 
Rejuvenating Swipes
 and our Vital A Rejuvenating Serum. Dry skin and clogged pores be gone forever.
6.
Prevent further damage with the right SPF. Not all SPF gives you protection from the damaging UVA rays that cause redness, excess vessels, brown spots, and skin cancer. SPF protects against sunburn due to UVB rays but not from UVA. Choose a sunblock with the active ingredients of zinc oxide or titanium dioxide to reflect the UVA rays like a mirror away from the skin. Some of our favorites are the chemical-free 
Elta MD
 products.  
Let your skin breathe and enjoy the freedom of going makeup-free this summer!
Look refreshed, radiant, and healthy when you use powerhouse ingredients that have been scientifically and clinically proven to deliver results you will love.
Have specific questions about what products are right for you?
Please reach out to our team to find your perfect match.
We love to see our MK Family glowing and feeling their most confident.